Description
Betty Crocker Indulgent Chocolate Fudge Icing 
Betty Crocker Indulgent Chocolate Fudge Icing (400g)
Rich, tempting and utterly mouth-watering, this lustrous chocolate fudge icing is the perfect finish for your Betty Crocker cakes. Ready to spread Each tub contains enough icing to cover and fill an 8" cake (serves 12) or cover up to 27 cupcakes. Store in a cool, dry place before opening. Once opened seal and refrigerate any remaining icing for up to 30 days for future creations!
Ingredients & Nutritional Information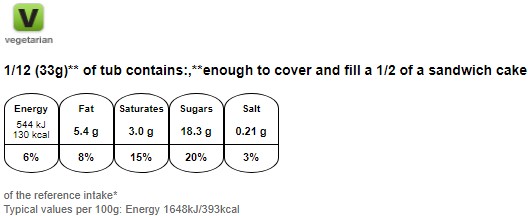 Sugar, Water, Palm Fat, Fat-Reduced Cocoa Powder (8.5%), Invert Sugar Syrup, Emulsifiers (E471, E435, E481), Salt, Preservative (E202), Acidity Regulators (E330, E524), Stabiliser (E450)
May contain Milk.
For allergens, see ingredients in bold.
Alternative Products Policy
If this product is out of stock a closely matching alternative product will be provided for the same cost. If no alternative can be found or if a lesser-value alternative is provided, we will issue a discount voucher code for the equivalent amount or a refund to the original payment card.
PLEASE NOTE: If you do not wish to receive an alternative for a particular product, please leave a note in the "Order Instructions" tab at the top right of the cart page. Also, If an alternative item is available, its allergy information may be different so please state any allergies in the Order Instructions tab. 
If you would like to be notified when an out of stock product is back online, please click the green "Notify me when in stock" tab on the right.
Payment & Security
Your payment information is processed securely. We do not store credit card details nor have access to your credit card information.