Description
Tropiway Fufu Cocoyam Flour 680g
Tropiway cocoyam fufu flour is a grain made from mashed cocoyam (a tropical root crop), cassava and saffron. This flour is used to make fufu, a staple dish in West African cuisine, and Ghana's national dish. 
Fufu is a starchy side dish which is served alongside soups and stews. 
Ingredients & Nutritional Information
Ingredients: Cocoyam, Cassava, Saffron, Preservative: Meta Bisulphite, Stabiliser: E471, Antioxidant E321.
For allergens see ingredients in bold.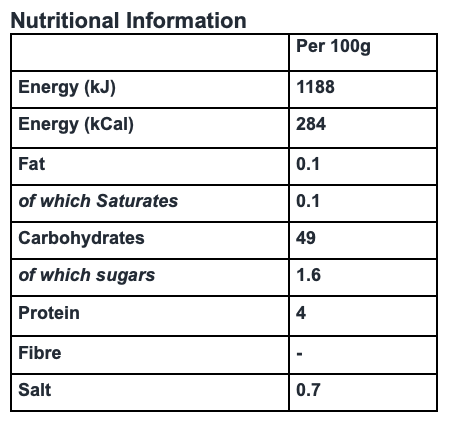 Alternative Products Policy
If this product is out of stock a closely matching alternative product will be provided for the same cost. If no alternative can be found or if a lesser-value alternative is provided, we will issue a discount voucher code for the equivalent amount or a refund to the original payment card.
PLEASE NOTE: If you do not wish to receive an alternative for a particular product, please leave a note in the "Order Instructions" tab at the top right of the cart page. Also, If an alternative item is available, its allergy information may be different so please state any allergies in the Order Instructions tab. 
If you would like to be notified when an out of stock product is back online, please click the green "Notify me when in stock" tab on the right.
Payment & Security
Your payment information is processed securely. We do not store credit card details nor have access to your credit card information.