Description
Heinz Beanz 415g 
Beanz Meanz Heinz We could tell you that our Beanz are hard to beat. That they're brimming with deliciously rich, tomatoey flavour. But you already know that. Because you know what Beanz Meanz...Heinz Beanz don't just taste great, but are nutritious too; high in fibre, high in protein and low in fat, as well as contributing to 1 of your 5 a day. Packed full of quality ingredients... it has to be Heinz.
For all your halal supermarket needs, shop SaveCo online now and have your groceries and hmc halal meat brought to your door. Nationwide delivery available.  
Ingredients & Nutritional Information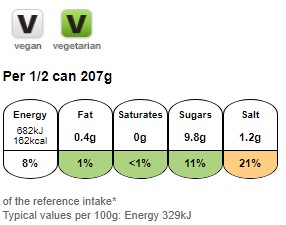 Beans* (52%), Tomatoes* (33%), Water, Sugar*, Cornflour, Salt, Spirit Vinegar*, *Produced in accordance with Organic Farming standards
Free From: Gluten

For allergens, see ingredients in bold.
Nutritional Information
Per 100g

Per 1/2 can

%RI*

Energy

329kJ

682kJ

78kcal

162kcal

8%

Fat

0.2g

0.4g

1%

- of which saturates

<0.1g

<0.1g

<1%

Carbohydrate

12.5g

25.9g

10%

- of which sugars

4.7g

9.8g

11%

Fibre

3.7g

7.7g

Protein

4.7g

9.7g

19%

Salt

0.6g

1.2g

21%

Servings per can - 2
Alternative Products Policy
If this product is out of stock a closely matching alternative product will be provided for the same cost. If no alternative can be found or if a lesser-value alternative is provided, we will issue a discount voucher code for the equivalent amount or a refund to the original payment card.
PLEASE NOTE: If you do not wish to receive an alternative for a particular product, please leave a note in the "Order Instructions" tab at the top right of the cart page. Also, If an alternative item is available, its allergy information may be different so please state any allergies in the Order Instructions tab. 
If you would like to be notified when an out of stock product is back online, please click the green "Notify me when in stock" tab on the right.
Payment & Security
Your payment information is processed securely. We do not store credit card details nor have access to your credit card information.