Description
Shan Chinese Chop Suey
Shan Chinese Chop Suey Mix helps you in preparing the traditional chop suey at home with the authentic taste and aroma for an ultimate food experience.
40g
Ingredients & Nutritional Information
Ingredients
Corn Flour, Salt, Maltodextrin, Sugar, Black Pepper, Flavour Enhancer: Monosodium Glutamate, Soya Sauce Powder (Wheat, Soy Bean, Salt), Onion, Ginger, Garlic, Acid: Citric Acid, Anticaking Agent: Silicon Dioxide.

May contain traces of Sulphite, Sesame, Mustard, Gluten and Tree Nuts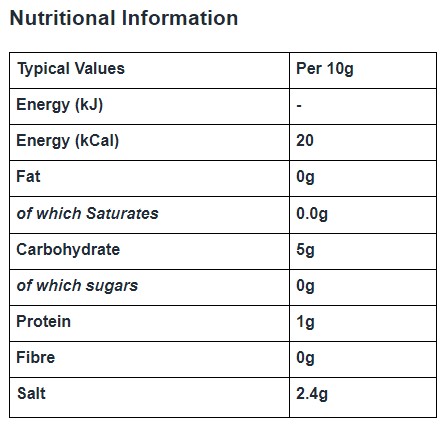 Alternative Products Policy
If this product is out of stock a closely matching alternative product will be provided for the same cost. If no alternative can be found or if a lesser-value alternative is provided, we will issue a discount voucher code for the equivalent amount or a refund to the original payment card.
PLEASE NOTE: If you do not wish to receive an alternative for a particular product, please leave a note in the "Order Instructions" tab at the top right of the cart page. Also, If an alternative item is available, its allergy information may be different so please state any allergies in the Order Instructions tab. 
If you would like to be notified when an out of stock product is back online, please click the green "Notify me when in stock" tab on the right.
Payment & Security
Your payment information is processed securely. We do not store credit card details nor have access to your credit card information.